Acoustical Barrier for Industrial Noise-Whisper Foam-Water Retardant & Fire Retardant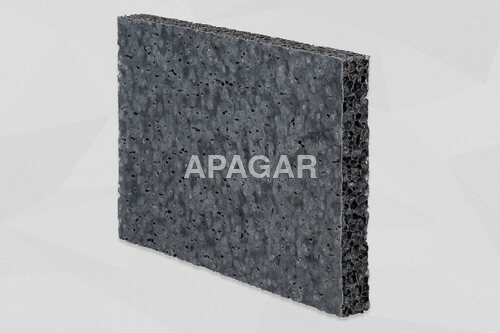 Acoustical Barrier for Industrial Noise-Whisper Foam-Water Retardant & Fire Retardant
Product Description
Acoustical Barrier for Industrial Noise-Whisper Foam-Water Retardant & Fire Retardant

Stratocell Whisper is a new way to absorb noise without some of the limitations of traditional lofted or fibrous materials.
Sound Absorption: Stratocell Whisper uses a networked perforated honeycomb like structure to attain an NRC=1.
Moisture Resistant: there is no need for a water barrier or protective film to ensure acoustic properties are maintained
Strong Structure: has a semi rigid structure that makes it easy to cut, handle and install on site.
Light Weight: with a weight of less than 1.5kg per square meter at 50mm it's up to half the weight of alternative materials.
Fiber Free/Washable: has no fibrous materials, low particle emissions, low VOC and is CFC free and zero ODP.
UV Resistant: Stratocell Whisper UV has surpassed 2000 hours in a QUV test and maintained it's acoustic properties. Whisper UV is rated as a self-extinguishing material to DIN 4102 Class B2.
Fire Retardant: Stratocell Whisper FR has achieved a Group 1-S result in the C/VM2 appendix A to ISO 9705:1993 as outlined in the New Zealand Building Code, and a Group 1 in the Australian NCC specification C1.10 to AS 9705-2003 as outlined in the Australian building code.
Transmission Loss: Stratocell Whisper 50mm has attained an Rw of 13.8 in ISO 717-1 tests.
https://sealedair.com.au/en-gb/product-care/product-care-products/stratocell-whisper
For Classroom Noise:
https://sealedair.showpad.com/share/WQa1N7nhlxxruelZGRdLc
For Outside Noise:
https://sealedair.showpad.com/share/hISAZVHCbO0Q8bdy4jgWh
Swimming Pools, in-door games area, auditoriums, etc. :
https://www.youtube.com/watch?v=erzRwRC7Gkk
Construction noise barrier walls:
https://www.youtube.com/watch?v=v0Q97EIsQak
Railways (Train) and Roadway barrier walls:
https://www.youtube.com/watch?v=OM2IYOtBEL4
Trade Information
1 Week

Within a certain price range free samples are available
Western Europe, Australia, Middle East, Central America, South America, Asia, North America, Africa

All India