Health Facilities Sound Masking Systems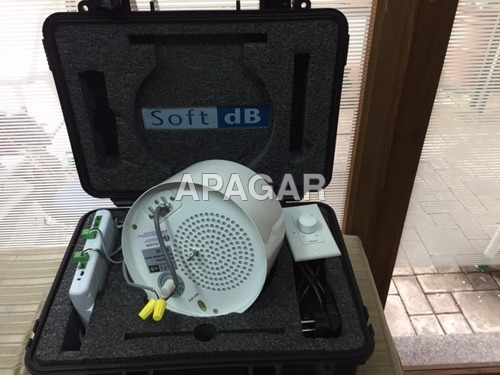 Health Facilities Sound Masking Systems
Price And Quantity
145000.00 - 225000.00 INR

180000 INR
Product Description
Healty Facilities Sound Masking Systems
What are Sound Masking Systems?
There are scenarios and environments wherein employee concentration and / or verbal privacy are crucial. Hence, the ambient sound or background noises need to be eliminated so that pin-drop working environment can be created. Here, our sound masking systems are used. With this product, sound-proof environment can be created that will help in increasing the focus & concentration of in-house personnel.
Where are sound masking systems used?
Our products are suitable for
call centers, offices, banks, hospitals, libraries, hotels, military units
and many other areas. These are not just beneficial for employees / in-house workforce but also deliver advantages to visitors.
What are benefits of sound masking systems


These systems generally include speakers connected in series. These are installed in the ceiling, usually above the grid ceiling where ever the grid ceiling is installed. Through these speakers, a pre-engineered sound is dispersed in background that increases the ambient level in a precisely controlled manner. Few advantages of these systems are:
Provides flexibility in the facility
Productivity is increased and hence cost of projects is decreased
Very good control of over voice
Increased comfort and Quick ROI
Speech privacy rate is increased by 35% to 90%
Cutting edge Sound Masking System
SmartSMS-NET is intended to give the best masking sound while safeguarding the solace of the occupants. The exact modification of the masking sound to the particular qualities and noise states of every work zone is the thing that distinguishes this framework. It depends on three remarkable components:
Automatic Equalization Process guarantees the generation of an interestingly smooth, consistent and agreeable sound covering, regardless of the acoustical attributes of the work space.
Real-Time Adaptive Adjustment of the Masking Sound Level.
Networked System- It includes small masking zones and larger covering zones and consolidates the adaptability of system framework and the cost productivity of incorporated frameworks.
Additional Advanced Features:
Graphic Control Interface
Handheld Control
LEED Design
Individual Speaker Control
Paging and music
Gradual Ramp-Up
Monitoring system
Calendar Adjustment
How Does Sound Masking Work?
In office spaces, the foundation clamor level is by and large low. Thus, individuals inadvertently catch discussions – a troublesome circumstance for all concerned. To address this issue, sound concealing frameworks transmit a delicate, unnoticeable foundation sound with the utilization of an amplifier framework. The encompassing sound level turns out to be more uniform and generally uproarious diversions are suppressed by the sound masking.

Sound Masking Benefits:
Productivity Gains
Sound masking makes undesirable discussions and other commotion diversions less capable of being heard. The outcome: Employees are less diverted, they can think better, and their efficiency rises quantifiable!
Greater Confidentiality
Today, it is less demanding and more efficient to utilize sound veiling than routine soundproofing strategies keeping in mind the end goal to get more noteworthy discourse protection in office spaces. The SmartSMS-NET has turned out to be a viable, uncomplicated answer for expanding classification in a wide range of workplaces, what's more, guaranteeing better security of your private data.
Unique Automatic Equalization Process
SmartSMS-NET Ensures Precise Adjustment of the Masking Spectrum
The challenge: To create ideal sound masking for all work space attributes. Parameters such as size, sort of roof, divider covers, and furniture impact the spread of sound concealing. In the event that the masking framework is not appropriately aligned to the particular states of the room, it gets to be insufficient and/or disturbing. The upside of SmartSMS-NET is that it adjusts to attributes that are particular to every workplace. Its extraordinary adjustment framework (patent no.: US 7460675 B2) utilizes an amplifier to gauge the acoustic reaction and the foundation commotion in the space. Taking into account this information, it consequently ascertains the clamor range that must be utilized to transmit a delicate, uniform, and non-troublesome covering commotion
Rapid Calibration, Accurate Results
With SmartSMS-NET, a masking zone can be totally aligned in under one moment, because of Soft dB programmed alignment prepare (pat. US 7460675 B2). This programmed alteration is done not just on 1/3 octave groups, however on 340 restricted band range. It is speedy, exact and gives an unparalleled general smooth and agreeable sound masking range The alignment quality is measured by the framework's coordinated recurrence analyzer. Initially, it gives signs with respect to whether the concealing created is in finish congruity with the sound range looked for.
Real-Time Adaptive Adjustment of Masking Volume According to Ambient Noise
An office space is a dynamic domain in which surrounding commotion and the volume of sound diversions shift an incredible arrangement relying upon the timetable and exercises in progress. With a specific end goal to be ideal, sound covering must adjust to changes: It must increment amid exceptionally dynamic periods, and turn out to be more circumspect at the point when the range is calmer. Just SmartSMS makes this conceivable!
Effective Masking at All Times
Our versatile change framework (US 8116461 B2) distinguishes varieties in surrounding commotion progressively, from signs supplied by sound level sensors introduced in the roof of the work space. Also, on account of a propelled flag handling method, it consequently conforms the masking volume relying upon the power of conversational commotion and other clamor distractions.
Support of Acoustic Comfort with Steady Adjustment
We realize that to be adequate in a workplace, sound concealing must be as imperceptible as could reasonably be expected, where clamor changes bit by bit. clamor varieties step by step. Adjustments to sound masking volume are, entirely just, subtle.
Real- Time Adaptive Adjustment Features:
Control of masking volume taking into account the level of aggravating commotion in a room.
Disturbing clamor is measured utilizing sound level sensors introduced as a part of the roof.
Masking sound level is balanced consequently progressively.
Adjustment rate, high point of confinement and low cut-off are programmable independently, for every zone.
An info blender takes into account the mix of any dynamic contribution with any yield channel.
Greater Confidentiality in All Environments
Open-Plan Offices

Sound is effortlessly transmitted all through open-arrangement workplaces, given that there are no entryways or dividers to piece engendering. Discussions are obviously perceived, which exasperates partners both adjacent and further away. Sound covering raises the acoustic solace level of open-arrangement workplaces by decreasing the diversion range. Thus, individuals are essentially less occupied by discussions that occur inside a range of 15 to 40 feet from where the sound-veiling amplifier is located.

Closed Offices

Significant layout cost reduction

SmartSMS-NET dispenses with or decreases the requirement for plenum hindrances, protection and additional drywall layers. With our framework, establishment expenses can be diminished by $3 per square foot.
Greater adaptability
SmartSMS-NET enhances discourse security between workplaces isolated just by parcels. It builds the acoustic viability of mobile divider development without losing its functional viewpoint.
Types of Work Environments, that Profit from Masking:
Financial institutions
Health facilities
Call centres
Open-plan offices
Closed offices
Meeting rooms
Reception areas
And more
Established in 1996, Soft dB is a pioneer in acoustics; its aptitude is perceived around the world. Delicate dB offers counselling administrations for advancing the acoustics of business and mechanical offices. It creates and markets sound covering frameworks, DSP cards, specific acoustic estimation instruments, dynamic commotion control frameworks and acoustic displaying programming.
Satisfied Clients
OUR EXPERTISE IS RECOGNIZED WORLDWIDE
The workplace is exceptionally noiseless; calmer. Toward the end of the day, the workers are less drained. They don't feel the time passing by on the grounds that they are not so much irritated but rather more focused."
"Sound masking was introduced taking after the redevelopment of our office spaces. We had settled on moveable dividers, and we needed to enhance the sound quality between the spaces. We quickly saw an all the more smooth impact over the open ranges and great protection in our shut workplaces; this was in spite of every one of the discussions and the level of movement that happens there. We were enjoyably astounded!"

1st Wifi networked sound masking system: a breakthrough for customers and installers
Wireless system streamlines outline and diminishes installation costs (no restrictive links)
Adaptive volume control, a Soft dB select element that gives unparalleled solace
State of the craftsmanship graphical UI
Safety Certifications
ETL Listed UL 2043 Standard for Fire Test for Heat and Visible Smoke Release for Discrete Products and Their Accessories Installed in Air-Handling Spaces
EN 55103-1, 2- FCC Electromagnetic compatibility for audio & video apparatus
ETL Listed UL 60065 / ULC 60065 Listed : Audio, Video and Similar Electronic Apparatus-Safety Requirements.
Conformity to all ASTM requirements related to sound masking systems
ASTM E1130-08 - Standard Test Method for Objective Measurement of Speech Privacy in Open Offices

Using Articulation Index
ASTM E2638 - Standard Test Method for Objective Measurement of Speech Privacy Provide by
Closed Rooms
ASTM E1374-06 (11) - Standard Guide for Open Office Acoustics and Applicable ASTM Standards
ASTM E1573-09 - Standard Test Method for Evaluating Masking Sound in Open Office Using A-Weighted and 1/3 Octave Band Sound Pressure Levels
LEED design
Exceeds the necessities of LEED-V4 Acoustic Performance identified with sound concealing frameworks
Uses of high-productivity enhancers and low utilization electronic segments permitting a low energy utilization
Integrates a close down capacity that decreases the vitality utilization to zero outside of typical working hours
Video
https://www.youtube.com/watch?v=sEvE4pR5pWo
Trade Information
Cash Against Delivery (CAD), Cash on Delivery (COD), Cash in Advance (CID), Cheque, Cash Advance (CA)

50 Per Month
Contact us for information regarding our sample policy

Customized Packaging