Sound Mixing Studio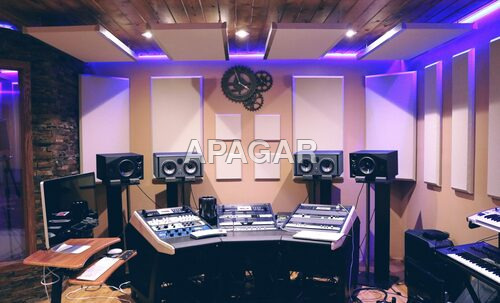 Sound Mixing Studio
Price And Quantity
100

Square Foot/Square Foots
Product Description
As per specific end usage necessities of the clients, the Sound Mixing Studio solutions is offering at comprise quality acoustic solutions. Our company makes sure to provide the best possible sound barrier support. The features of the Sound Mixing Studio are solutions designed to keep the aesthetics neat, help in isolating sound, different room sizes, support eliminating reverberations, reasonable rates and much more.
Size of Room : 12 ft long X 5 ft wide and 7ft height
Vision Statement:
PRESSPLAY is committed to providing comprehensive and world class audio solutions to the music and audio industry, entertainment world, advertising and distribution media, and other clients, innovatively customizing our services to their specific needs, and aspiring to be the best in the industry.
Located in the heart of Andheri (West), a western suburb in Mumbai, Pressplay has been established as an Audio Solutions Company in Mumbai, the exciting entertainment capital and creative hub of the country.
Our Scope of products and services:
Brief Based Music Composition
Music And Audio Production And Postproduction
Arranging And Programming Music
Sound Design Solutions
Audio Mix-Down For Distribution Media
Mastering For Music And Other Recorded Audio
Game Audio Asset Creation
We are focused towards delighting our customers with our creative approach, and treating them with deep respect and empathy. We are committed to building long-term relationships through an innovative and technology driven approach that delivers an un-compromised level of quality.
All our products and services are customized and designed to completely align with the medium that the content is intended to be used for. Our energies are constantly focused on using our skills and expertise towards finding creative solutions to the music and audio content requirements of our valued clients.
Our Resources:
While working with music and sound, it is undoubtedly the incredibly sensitive ears of the professional that acts as the most valuable asset, no doubt seamlessly blending with the right equipment and technology.
Our Studio facility is equipped with the following state of the art capabilities:
Hardware :
APPLE IMAC
MOTU AUDIO INTERFACE (HD896 | ULTRALITE MK3)
FOCUSRITE LIQUID MIX DSP SIGNAL PROCESSING (32 CHANNEL)
UNIVERSAL AUDIO SATELLITE DSP ACCELERATOR
ADAM AUDIO A7X MONITORING SYSTEM
NATIVE INSTRUMENTS MACHINE RHYTHM PROGRAMMING SUITE
Software:
APPLE LOGIC 9 / 10
AVID PRO TOOLS 10
ABLETON LIVE 8 / 9
ADOBE CREATIVE SUITE 6
FMOD STUDIO
CINEMA 4D
NATIVE INSTRUMENTS COMPLETE
UAD - DSP POWERED PLUGINS
Press play works closely with a network of creative professionals that specialize in their own respective skills. Based on the unique needs of each client and project we work with, these talented individuals share a creative space with us to provide a complete content based solution ranging from Video production, Graphic design, Digital media solutions.